Mike Thyen is a teacher and coach and our training period happens during the summer months of June, July and August. The general age of dogs should be around 7-8 months up to 2 years.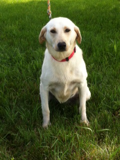 TBird Labs has a Basic Course which includes all Obedience training, Force Fetch and Whistle training, Hand Signals, Collar Conditioning if wanted, Single marks and simple Double marks on both land and water.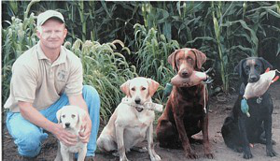 TBird Labs also has an Advanced Program which is the teaching of multiple marks and the knowledge needed for the blind retrieve. Whatever your needs, I'm sure we can make it work.
TBird Labs has countless acres of training ground and each dog gets individual attention and are trained, at their own pace. Training at each dog's individual pace, ensures the success of your dog's training program. We want your retriever to be the talk of the hunt and a hunting partner you can be proud of and have fun and success with.

Give us a call, 605.520.0575 or E-mail, for information on our training fees, schedules or any questions you may have.